Victoria County History Project
About the VCH Cumbria Project
The Victoria County History (VCH) is an internationally respected work of reference which ultimately aims to write the history of every town and village in England. For more information, please go to www.victoriacountyhistory.ac.uk
No VCH town or village histories had been published for the historic counties of Cumberland and Westmorland before the VCH Cumbria project was launched in 2010; the only parts of Cumbria previously to have been researched in detail by the VCH were the Furness and Cartmel areas, which were formerly in Lancashire and are covered in VCH Lancashire, Volume VIII (published in 1910). So, for the bulk of the county the VCH Cumbria project is starting from scratch: READ MORE
Progress to date:
- a team of over 100 volunteers from across Cumbria has compiled brief histories, which we call Jubilee Digests for each of the 344 parishes/townships in the county, forming a springboard for future work. You can access these via our Interactive Map or the search engine
- a smaller core of volunteers has embarked on researching and writing full parish/township histories to the VCH template, which will eventually form part of the national work of local historical reference
- three full parish/township histories have already been completed in draft form and can be accessed and downloaded now from the website. They are: MOSSER, RENWICK, SKELSMERGH
Project Direction
All the work is being done by volunteers, under the overall direction of Professor Angus Winchester of Lancaster University, and with volunteer guidance and support provided by Dr Sarah Rose, Volunteer Co-ordinator. A free training programme is provided to help volunteers, and ensure that together we maintain the high standards of scholarship expected from the Victoria County History, and that our work provides a factual, reliable and authoritative work of reference for everyone with an interest in the history of their town or village - and possibly their family too.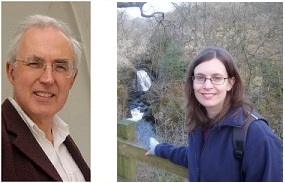 Prof. Angus Winchester & Dr Sarah Rose
Become a VCH Volunteer
Details of how to get involved in the VCH project as a volunteer can be found on our Become a Member page.
What our volunteers say:
'I think the biggest impact on many of us is being able to make a real contribution to a national historical publication and, as a result, becoming ... more "professional" in our approach to local history'
'this is a tremendous opportunity to enhance our skills and achievements ... It is impossible to exaggerate the importance of this to us'