This interactive map is the main portal for accessing current information on the histories of individual places within Cumbria.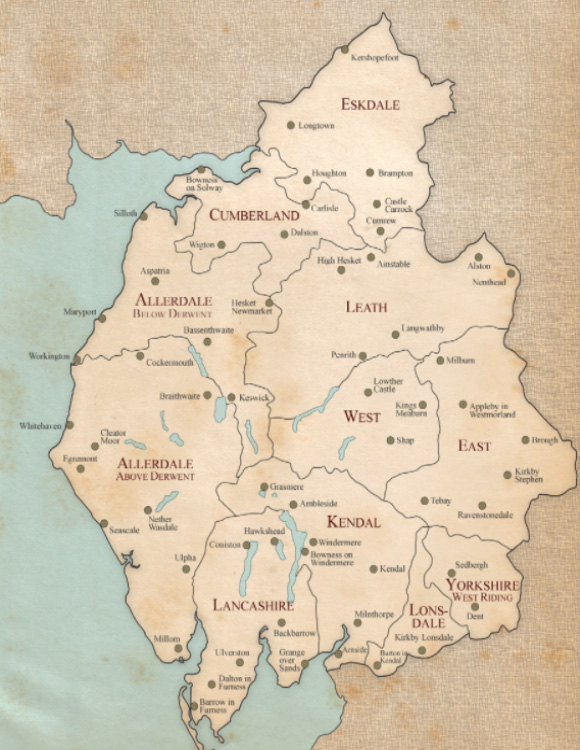 Finding a Place
The map above shows the pre-1974 counties of Cumberland and Westmorland, divided into their "Wards" - and those parts of the former counties of Yorkshire and Lancashire now included within the county of Cumbria.
Click within a WARD and a pop-up map of the ward will appear with all the townships/parishes marked within it. These are the Civil Parishes as they existed around the 1890s. Click on a name, and you will be taken to the page for that place.
Alternatively, you can find infomation about a place, including hamlets and villages, through this alphabetical TOWNSHIP LIST on the right hand side (or below, if you're using a hand-held device). 
The Township Pages
Each of the 348 townships/civil parishes of Cumbria has a webpage to itself. On that page you will find a brief single-page summary of the history of the place, based upon the Historical Gazetteer entry (see opposite), but subject to amendment from time to time in the light of new research. Full Victoria County Histories of each place will be eventually be posted - but this will take time, possibly many years to complete.
In the meantime, a list of draft township histories (complete, interim or partial) is available HERE. If YOU would like to embark on researching the history of a particular place for the project, please get in touch with Dr Sarah Rose via the Contact Us page. Full training and support will be given.
On the Township Pages too you will find links to up to ten papers which have appeared over the years in the Transactions of the Cumberland and Westmorland Antiquarian and Archaeological Society. There will also be links to other external sites, including maps and other resources.
If you spot something that you think is wrong in one of the Digests, and have evidence to back up what you say, please let us know via the Contact Us page. Accepted amendments will be incorporated into the township web page - and will be included in subsequent editions of the Gazetteer
The design and development of the interactive map and its associated content was made possible through the assistance of grants from the Marc Fitch Fund and from E H Booth & Co Ltd.